Bauzium Sculpture Gallery
Pub Time:2015-09-17 14:40:04
Rough concrete and crumbling stone walls act as a windbreak for the grounds of the Bauzium sculpture gallery in South Korea by Seoul studio Archium.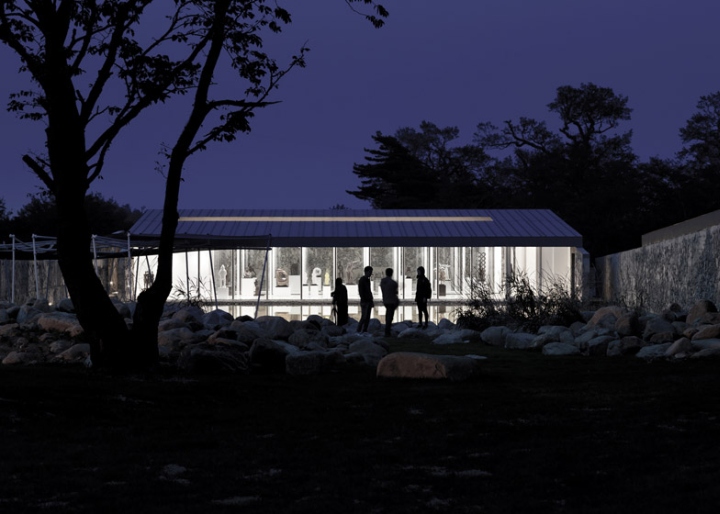 The gallery was commissioned by the sculptor Kim Myoung-Sook and is located on a 4,500-square-metre field in Goseong, a province on South Korean's eastern coast that abuts the North Korean border. Ulsanbawi Rock, one of the tallest peaks of the Taebaek Mountain range that runs along the eastern spine of the Korean peninsula, forms a dramatic granite backdrop for the gallery and its stone- and sculpture-littered grounds.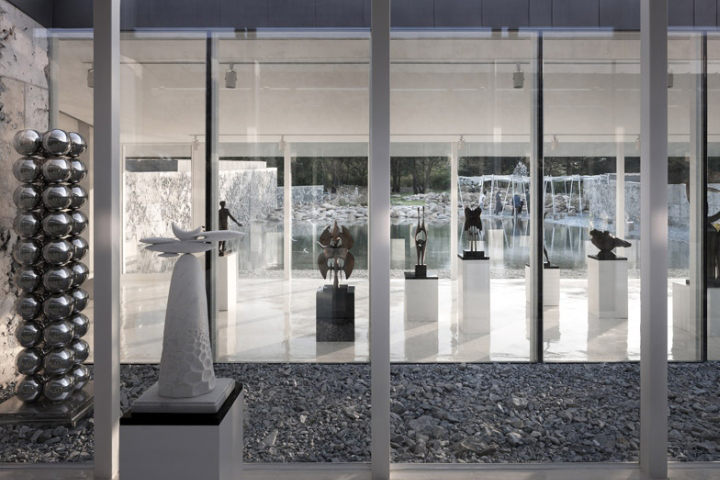 Architect Kim In-cheurl of Archium designed the Bauzium (Garden of Rock) gallery and its enclosing walls to be built using coarse-textured concrete and pieces of rugged stone. Like those used to frame courtyards and corridors at a Nepalese broadcasting station by the studio, these materials were chosen to help blend the structure with its setting. The thick walls divide the vast site into a series of courtyards for displaying sculptures, and protect three glazed galleries from the force of the wind on the exposed mountain-side plot. "Building an art gallery on a 4,500-square-metre vegetable field begins with understanding the wind," said the architect. "Though not as strong as the Himalayan winds, the winds here also have a significant impact on daily life."
"The northeasterly wind coming from the Ulsanbawi Rock and the sea breeze from the East Sea digs up the entire forest full of pines," he added. "Considering the nature of wind, it is better to stand with it than to go against it." The three separate buildings, each measuring 150 square metres, are connected by the stone windbreak. The first is named the Modern Sculpture Pavilion and hosts a permanent exhibition of the client's sculpture collection, while the Kim Myoung-Sook Sculpture Gallery is used to display the artist's own works and the Special Pavilion is a temporary show space.
Inside, sculptures are dotted along glossy glass-lined corridors that overlook the rocky courtyards, which are designed to weather with age. "We designed the outdoor gallery with yellow rocks imagining that they rolled down when the Ulsanbawi Rock rose," said Kim In-cheurl. "Over time, the wind will green the garden, bringing soil and planting seeds in to the cracks of the fence," he added. "This, we believe, is how to build."