Children Park at EXPO 2015 by ZPZ Partners, Milan – Italy
Pub Time:2015-08-19 10:07:44
The Children's Park, a linear garden with eight attractions on raised platforms, has giant bobbin-shaped elements in wooden lattice sheltering the exhibits and children's activities from rain and sun. Fragments of domesticated nature where the natural and artificial coexist, the exhibits were designed to privilege the organic language of nature as opposed to a more formal architectural vocabulary.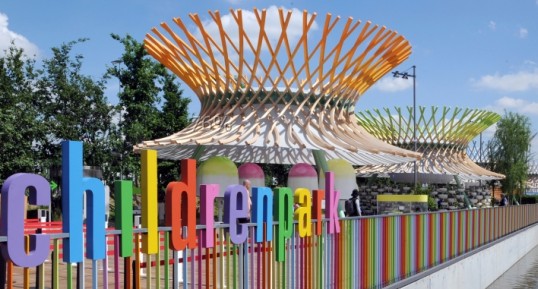 The project, essentially a nature walk with eight exhibits, offers children playful learning experiences as they interact with various aspects of Expo Milan 2015's core theme, "Feeding the Planet, Energy for Life". An hour long tour includes each of the eight exhibits, brief interactive games for groups of around 25 children (a typical school class size), allowing approximately 1,200 visitors an hour, including adult chaperons.
A path of larch wood slats in irregular widths widens out in correspondence with the exhibits. The suspended bobbin shaped structures, lifted off the ground by three supports, are twelve meters in diameter and 7.5 meters tall. The structures, also used for technical and support equipment, light up in the evening, making the Children's Park visible from a distance.
The design strategy was inspired by a need to create a unified visual perception while heralding the experiential, interactive and didactic exhibits along the path, occasionally interspersed with natural planting. The solution was to approach the project as landscape architecture, confronting the language of nature-by-design, the lexicon of historic Italian gardens, but also the sequential nature more typically found in agriculture.