Aurobindo Pharma Booth by Insta Exhibitions at CPHI 2014
Pub Time:2015-09-18 21:58:51
Since 2004 Insta Exhibitions Pvt. Ltd. An exhibition services solution provider based out of Mumbai, India has been designing and building the trade show booth for Aurobindo Pharma at CPHI. The theme and design attributes have been conceptualized by Insta Exhibitions based on Aurobindo's growth and increasing influence on the pharma industry in India and the global stage. In 2014 the design underscored 'Diversification' as the central theme running through the design concept of the booth, giving the space easy recognition and instant recall of the brand to the visitors.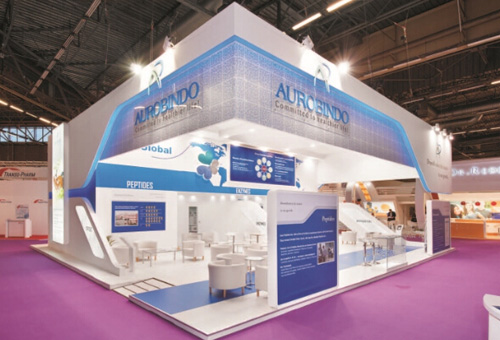 This central theme portrayed Aurobindo as a company that is bound by a single strand of diversity and growth in the form of an open structure that stretched out in all directions with three flanks stretching out from the base structure, the colour scheme of white portrayed purity and size. The central theme was extended on to the graphics which were given a 'molecular' treatment, signifying Aurobindo's expertise in the field of pharmaceuticals. Lots of moving space and relaxation zones was a hit with the crowd.
Insta Exhibitions has been creating experiential 3D spaces for companies like CIPLA, Putzmeister, Reliance, Caterpillar, Bosch and most of the leading multinationals at every major exhibition across the globe.